Streamline Your Travel: A Guide to Online Train Ticket Booking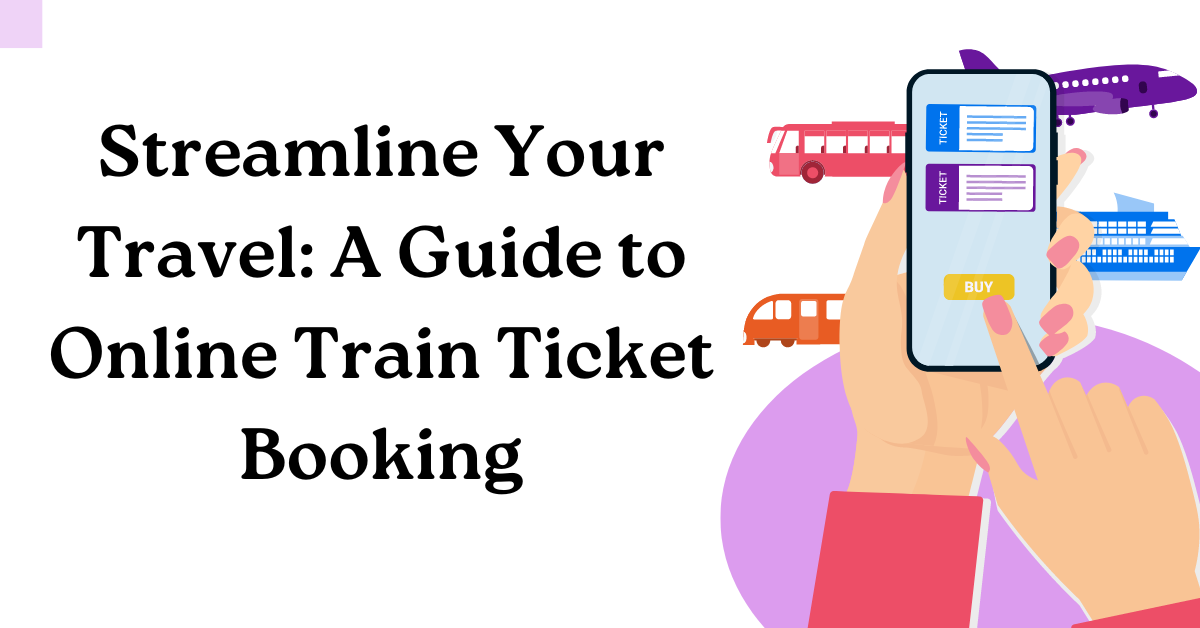 Streamline Your Travel: A Guide to Online Train Ticket Booking
Traveling is always a blast of joy for travelers, mainly by train. Whether you are going out with family or alone, the fun conversations with strangers, fresh air, and scenic sights make the whole experience incredible. 
India is where trains are indeed the lifeline for traveling, and it's regarded as the most convenient and comfortable mode of transport to get around in India. 
These days booking tickets is just a mouse click away. You can book the tickets online with the help of multiple preferred sites. This internet service has enabled us to gain the advantage of tickets from the comfort of the couch. Imagine how daunting is the process of manual ticket booking. Go for online train tickets to avoid the hassle and bustle of the manual ticket booking process. 
Let's give a brief overview of online train ticket booking. We will streamline your entire process of booking. 
What is Online Train Ticket Booking, and what are its benefits? 
Online train booking is known as e-Tickets. In the old days, passengers visit the booking centers to fill out a registration form and reserve seats. But now, with the advent of technology, paperless electronic tickets have been introduced. 
You can now book your tickets from home with excellent internet access. Even without any worries, you can cancel your e-Tickets. 
Now, let's comprehend the advantages of online train ticket booking. 
No more standing in the long queues
Booking online tickets are straightforward. You don't have to wait long to book your tickets online. Go to the online portals and book your tickets from your home. The entire process conducts online, so upon successful booking of the tickets, they will send to your email inbox. 
Secured Payment 
After the advent of Covid, everyone has shifted to online payments, which is one of the secure modes of payment. When booking tickets online, use the secure payment method, and you can complete the payment online through a credit card or UPI. 
Book tickets from anywhere 
It is one of the most prominent advantages of booking train tickets online. You can confirm your tickets from anywhere with a strong internet connection when booking online. 
Multiple online sites and apps allow you to relish the comfort of booking tickets even from faraway places. 
Easy access to the tickets 
Booking tickets online allows you to easily access the ticket to your email ID, and you can print the tickets directly from your computer. Nowadays, you don't even have to print the tickets, show them on your smartphone or handle your proof of identity. 
Preferential treatment 
When you book tickets online, you may receive preferential treatment, and you can get high on comfortable seats, food, drinks, and premium lounges. Moreover, passengers who have booked tickets online are allowed fast-track check-in without waiting in long queues. 
What is the process of online train ticket booking? 
Are you looking for an easy procedure to book your tickets online? Visit an online train ticket website or the Quick Tatkal app for online train ticket booking. Here is the process you need to follow while booking. 
For the general booking: 
General quota is the most common type in IRCTC online ticket booking. With it, you can book the tickets in advance, generally 120 days before. Here is the entire procedure for train reservation online in general quota: 
Step 1: Open the Quick Tatkal app for the bookings. 
Step 2: Following this, you will notice regular booking; click on that. 
Step 3: After this, fill in the journey details and where you want to go.
Step 4: Select the train that suits your time. 
Step 5: Now, fill in the passenger details and make a payment for booking your tickets. 
Step 6: Enter your IRCTC user account and password, and grab your tickets. 
NOTE: Ensure you have an IRCTC user account and password for ticket booking. 
For tatkal booking: 
The tatkal train booking online is booked a day before the journey date, primarily for special trains. Your primary focus while reserving the tickets should be speed. Here is the procedure to book the tatkal E-ticket. 
Step 1: Open the Quick tatkal app to book your seats. 
Step 2: Click "Tatkal Booking" and create a form. 
Step 3: Fill in your journey details as asked in that form. Fill out the form's journey station details, passenger details, mobile number, and other information requested. Save the record after this. 
Step 4: Wait for the tatkal window to open. Once available, you can select the form and click on the "Book Now" option to start the booking. You can visit IRCTC's official website or the IRCTC Rail connect app. 
Step 5: Your form will start filling out automatically so you can book tickets quickly.  
Once the tickets are confirmed, they will let you know. 
Tickets for different types of classes 
Traveling has changed a lot over the years. In the olden days, people were not demanding a particular class while traveling by train. Technological advancements have unlocked many train options, like sleeper coaches, AC coaches, toilets, cushioned berths, and more. With changing traveling needs, various classes are available for travelers, so let's look at them. 
First AC (1A) 
The first sleeper class of the Indian Railways is one of the most pricey modes of travel. It has 4 or 3 berths per compartment; generally, it doesn't have side or lower berths. 
There are two compartments- a coupe and a cabin. The one with two berths are coupe, and the one with 4 is a cabin. Many people consider going to this coach because of the luxurious amenities and privacy. 
Executive Anubhuti (EA) 
Executive Anubhuti coaches offer diverse amenities. It is a chair car train with 56 seats that offer LED screens with LED lights that provide appropriate lighting in the train. 
You can watch movies and listen to music with the headphones railways have provided. 
AC Executive Class (EC) 
EC is the business class mode of trains, and it is entirely AC class and has chair-car-type seating arrangements. These are generally the same as chair cars, but the seating arrangements make EC more spacious and comfortable. 
Second AC or AC 2-tier (2A) 
The second class is the most common class that most people prefer, and it offers excellent service and comfort.  
It has six berths in each compartment, only two on each side, and no middle berth. For travelers, trains also provide curtains for their safety. You can consider online train ticket booking. 
First Class (FC) 
These are the non-ac coached by the Indian Railways. In the old days, these coaches were famous among Politicians. But with the advent of AC coaches, FC wound down. Only a few trains offer first class. The coaches don't have dustbins or attendant call buttons in the cabins. 
Sleeper (SL)
The sleeper class has Non-AC coaches and has eight berths per compartment. These trains have enough air ventilation, and nights in these coaches are too cold, and daytime is too hot. 
Book your tickets with QUICK TATKAL! 
Online train ticket booking is a bludge these days. You can now readily book your tickets from your home without standing in those long queues, and technology has made that easy to lay your hands on the tickets. 
Go for the Quick Tatkal App and book tickets without teething troubles.