Meet Your Immediate Travel Needs: Premium Tatkal Train Ticket Booking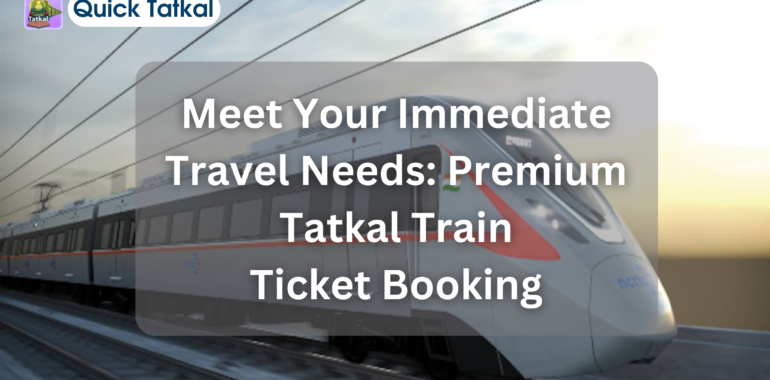 Meet Your Immediate Travel Needs: Premium Tatkal Train Ticket Booking
Looking for urgent travel options? Do tatkal train ticket booking. 
In India, traveling by train is the most common means of transport for which you can make bookings in general quotas. But if something urgent has come up and you need immediate train travel tickets, then utilize the Tatkal scheme.
What is the Tatkal Scheme about?
The Tatkal scheme was introduced by Nitish Kumar in 1997 when he was serving as the Railway Minister of India. It is a ticketing program that allows travelers to book journeys at short notice. The scheme is available for almost every train in India and in all the quotas, including general quotas, ladies quotas, tatkal quotas, premium tatkal quotas, senior citizens quotas, foreign tourist quotas, and physically handicapped quotas.
Motive Behind the Tatkal Scheme
Sometimes travelers have to make urgent plans for which getting a confirmed ticket on general quota isn't possible. To meet their immediate travel needs, the Tatkal scheme was introduced. 
About Premium Tatkal Tickets
In 2014, the Indian Railways, in addition to the Tatkal scheme, introduced a new quota called "Premium Tatkal". 
Premium Tatkal possesses features similar to the regular Tatkal scheme, but it's worth noting that you get ticket confirmation from Indian Railways only under the premium Tatkal quota. Also, booking a premium Tatkal ticket is the same as the regular Tatkal scheme. For AC classes, the portal opens at 10.00 a.m., and for non-AC classes at 11.00 a.m. A significant difference between the two schemes is in the pricing.
Note – Premium Tatkal quota does not apply to all trains.
Pricing of Premium Tatkal Quota
When the demand increases, the prices of premium Tatkal tickets also increase. If the demand is not too much, then the rates of premium tatkal ticket stay close to regular tatkal ticket charges. In short, premium tatkal follows a demand-based pricing system similar to the airline industry.
Features of Premium Tatkal Train Tickets
Under the premium Tatkal quota, the ticket is confirmed.

The facility is available only online, and you cannot book offline tickets.

No additional concession is provided under Premium

Tatkal train ticket booking.

The ticket cancellation facility is not available in the premium Tatkal scheme.
Difference Between Regular Tatkal and Premium Tatkal Scheme
Now that you have learned about both the schemes. Let's know the significant differences between the two. After that, you can decide which option suits you the best.
Pricing – Tatkal tickets usually have fixed prices, whereas premium Tatkal has a dynamic fare pricing mechanism for various classes.
Ticket Confirmation – Chances of encountering a waiting list are high under the Tatkal scheme but impossible for the Premium Tatkal quota.
Availability – Tickets under the Tatkal scheme are available for every quota, whereas the premium Tatkal scheme applies to only a few quotas.
Cancellation – Cancelling a Tatkal ticket is possible, but this option is unavailable under Premium Tatkal. 
Booking – Agents can book tickets under the Tatkal scheme, but in Premium Tatkal, they are prohibited.
Preferential Allowance – Senior citizens are given preference under the Tatkal scheme, but no preferential allowance exists under Premium Tatkal.
Essential Things to Know About Premium Tatkal Train Ticket Booking
Rules

– All rules that apply to Tatkal quota booking over the Internet apply to the Premium Tatkal quota.

Booking

– For Premium Tatkal quota, opening days booking is allowed on/after 10:00 hrs

Advance Reservation Period (ARP)

– ARP of a premium Tatkal quota ticket is similar to Tatkal ticket booking. 

Dynamic Fare Charges

– When booking under premium Tatkal, the dynamic fare charges shall be applicable and be charged for confirmed passengers.

RAC/ Waitlist

– Under premium Tatkal ticket booking, RAC or waitlist ticket booking is not allowed.

Child Ticket

– No concession is provided for child tickets under the premium tatkal quota

E-Tickets –

Only e-tickets are applicable for premium Tatkal, and I-ticket booking is not permitted.

Proof Required while Booking

– The identity card number is required for the prescribed identity proof when booking the ticket.

Original Identity Proof

– At least one person while traveling must carry actual identity proof that was used while booking tickets.

No Refund

– No refund shall be provided if a premium Tatkal ticket is canceled.
Ticket Booking Procedure for Premium Tatkal Quota
As mentioned earlier, the premium Tatkal quote is not available on every Indian train, so you must check the premium Tatkal train list before making a reservation. In case it is available, then follow the below-mentioned steps to book PT tickets:
Step 1: Go to the IRCT website 
Open the official website of IRCTC and log in using your ID and password.
Step 2: Provide Location Details 
Go to the "Book Ticket" section and then mention the 'from' and 'to' station.
Step 3: Select Dates 
Choose the journey date you have to travel on.
Step 4: Check the List of Trains 
After sharing journey details, click submit and see the list of trains available.
Step 5: Click Premium Tatkal 
Select the "Premium Tatkal" option in the "Select quota" section, displaying the trains with PT tickets.
Step 6: Make Bookings 
Select the train and tickets to make a booking. Do it as quickly as possible to avoid a price hike.
Step 7: Give Details 
Provide accurate passenger details matching original proof like PAN, voter ID, or other government-issued identity cards.
Step 8: Get Printout 
Take out a print of your e-ticket, which you get through the mail to avoid any possible inconveniences. 
Check PNR Status
You can check the PNR status via Quick Tatkal App, an easy-to-use mobile application. It helps you stay updated and make informed decisions about your journey. To have a hassle-free travel experience, install it on your phone and wither away your travel worries.
In The End
Meeting your immediate travel needs is possible via Tatkal and Premium Tatkal ticket booking quotas. Now that you know the difference between the two, you can make an informed, fast Tatkal ticket booking decision. Whichever you choose, it's up to you and your travel needs. However, do remember to check the PNR status and ensure convenient traveling.